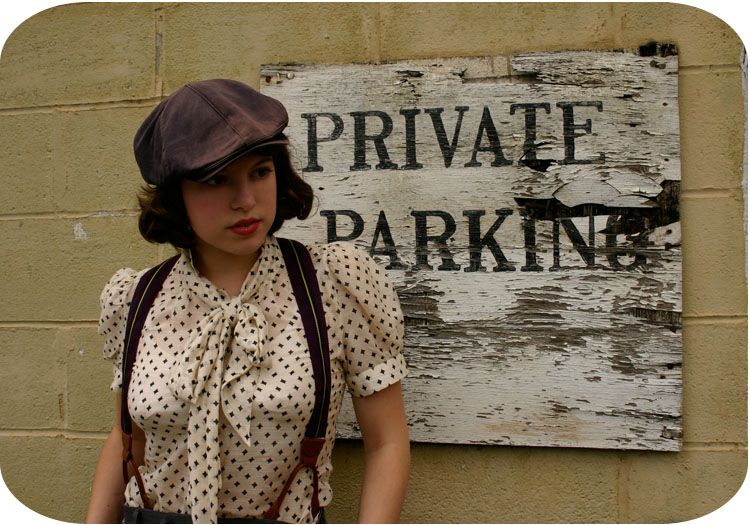 A few days ago
Lulu Letty
posted
these pictures
, of some great mens fashions, the type that are just irresistible. Lucky for me, my
Dapper as Hell
husband has great taste in clothing, and loves three piece suits, nice silk ties, and Stetson fedoras. So today I decided to raid his wardrobe, as we keep separate closets.
Now, I have wanted to do so before, but I have to say, whenever I open the closet doors, I feel I might faint, like those ladies in old films who see something so shocking, they just gasp and collapse in an elegant heap. It's a mess of wools and cashmeres, button up shirts crumpled on the floor, and hangers tangled without anything on them. The only things that are safe are the ties. Sam takes care of his ties.
So, I just stick to
my slightly neat closet
(the shoes get a little messy sometimes), and pretend Sams closet is
"The Red Door"
. But today I dug through and found a pair of vintage suit pants he wears often, with some braces (the suspenders with the button holes) still attached. I paired it with one of my frilly-ish blouses, his newsboy cap, and my converse high tops. I did have on heels at one point, which I liked better, but they were not so comfy.
Thank you Ruth for taking pictures!
Pants-Sams, vintage
Braces-Sams, Dooney and Bourke, thrifted
Hat-Sams, Old Navy
Blouse-
H&M
, via
Buffalo Exchange
, Hillcrest San Diego
Shoes-A gift from Sam,
Sailor Jerry